#32
Santorini - Hellász ékköve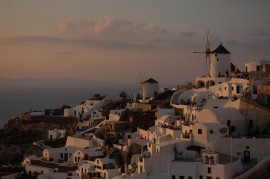 A Kiklád-szigetcsoport, s talán az egész Égei-tenger legízletesebb turistacsemegéje a Krétától északra fekvõ, 96 négyzetkilométernyi kis sziget, Szantorini. Az ókorban Kallisztének, a "legcsodálatosabbnak" nevezték. Egyedülálló természeti adottságait vulkánjának köszönheti. Az egykor kör alakú szigeten – amelyet hajdan Sztrongüloszként, "kerekként" is emlegettek – ugyanis egy minden korábbinál hatalmasabb vulkánkitörés során a hegyoldal a tengerbe szakadt. Az így keletkezett meredek, sziklás peremvonal, a kaldera fölsõ karéján épült apró házak látványa valóban lélegzetelállító.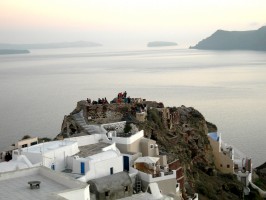 A régészeti kutatások megállapították, hogy a csöpp sziget, az egykori Thíra, a minószi kultúra kereskedelmi központja volt. Sõt, gazdasági szerepe, no meg függetlensége okán i. e. 2500 környékén komoly befolyással bírt az Égei-tengeren. A virágzó kereskedelem fellendítette Thírát, mígnem – s pláne: ki sejtheti, miért – Zeusz szikrázó (és váratlan) haragja lesújtott a szigetre. A föld hirtelen megremegett az ijedt talpak alatt. A szigetlakók fejvesztve menekültek hajóikon: a földrengés porig rombolta városaikat. Az óriási robaj nemhogy Krétán, de még Athénban is hallható volt. Mindez i. e. 1520 táján történt, s a hatalmas pusztítás után a szigetet 30 méter vastag hamuréteg fedte. A becslések szerint néhány évtized múlva omlott be a vulkán pereme, s így alakult ki Thíra szigetének különös félköríve, amelynek közepén 10 km átmérõjû öböl csillog. A sziget földjének felsõ rétege egyébként a mai napig több méternyi vulkanikus hamu.
Vajon ez volt-e az a legendák ködébe veszõ esemény, amelyet Atlantisz pusztulásával azonosítottak? Sokan máig úgy gondolják, igen.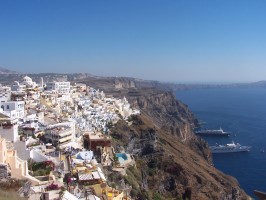 Atlantisz létezését megcáfolhatatlan tények nem erõsítik meg, ám talán mégis több egy gyönyörû mesénél. Jól ismerjük Platón híres dialógusait, melyekben nem csupán beszélnek Atlantiszról, hanem meglehetõsen alapos leírást adnak róla, politikai és gazdasági berendezkedésérõl, mindennapjairól. S ismerjük persze az egyiptomi Középbirodalom idejébõl ránk maradt történetet is, melyet egy papírusztekercs õrzött meg mindannyiunk örömére. De az indiai mondavilágban, közelebbrõl a Mahábhárata eposzban is találhatunk hasonló históriát. És akkor nem szóltunk még archeológusok egész soráról – nem is fogunk –, akik egytõl egyig megtalálni vélték az elsüllyedt földrészt. Egyetlen kivételt azért teszünk: Paul Schliemann – a Tróját feltáró világhírû tudós unokája – 1912-ben jelentette be, hogy atlantiszi leletekre bukkant. A világszenzáció (már akkor is) pontosan három napig tartott, s a témát oly gyorsan felkapó és a Schliemann unoka cikkét leközlõ The New York American a negyedik napon már nem gyõzött pironkodni.
A végtelen víz elárasztotta mesésen gazdag és boldog sziget keresése helyett induljunk el inkább felfedezni Hellász valóságban is létezõ ékkövét.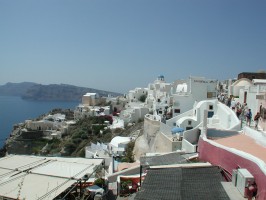 Repülõvel érkezvén, mondjuk Athén irányából, az apró szigetecske fölé, elsõ kérdésünk minden bizonnyal: Ó, meseszép, de hol fogunk itt leszállni? A reptér valóban aprócska, de ne feledjük, maga Szantorini sem egy fekve lustálkodó Góliát. (Légvonalban 18 km hosszú, míg szélessége 2 és 6 km között váltakozik.) Amennyiben a hajót választjuk, például a krétai Iraklio kikötõjébõl közel négy óra alatt pöfögünk át a szigetre. (Sok turista él ezzel a lehetõséggel, s fizet be egynapos, "oda-vissza hajóval" típusú szigetlátogatásra.)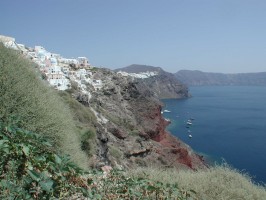 Firának, a sziget "fõvárosának" a kaldera meredek fala szélén szertelenül billegõ, jellegzetes, lapos tetejû házai olyanok, mintha éppen most akarnának belecsusszanni a hûsítõ habok közé. Mintha ölelve vigyáznák egymást a házfalak. A kaldera mélykék vize, s az aprócska vulkanikus szigetecskék annak közepén hihetetlen látvány nyújtanak. Mivel a vízmélység 300–400 méter között mozog, az óceánjárók nem tudnak lehorgonyozni "idebenn", s az utasokat fürge motorhajók szállítják a partra. A kikötõbõl a peremre vezetõ széles, meredek, olykor lépcsõkkel súlyosbított kaptatón öszvérek és szamarak bölcs türelemmel cipelik fölfelé a megszeppent turistákat. (A kevésbé romantikus, vagy az átlagosnál érzékenyebb orrúak többnyire a kabinos felvonót választják.)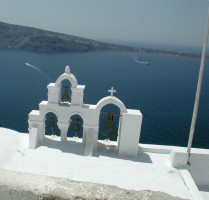 Az ortodox katedrális, bármely irányból is közelítünk, uralja a városképet. Ha fotót látunk valahol Szantoriniról, azon nagy valószínûséggel a kalderára épített kék-fehér házak láthatóak. Tényleg meghökkentõ, hogy szunnyadó vulkán kráterének peremén házak épültek, sõt éttermek és luxusszállodák úszómedencékkel. A hotelsor elõtti sétányról elénk táruló látvány lenyûgözõ. Háromszáz méterrel alattunk a tenger, látjuk a kikötõbe érkezõ hajókat, a turistabuszok körüli nyüzsgést. A kaldera oldalába lépcsõzetes elrendezésben odatapasztott hófehér házak visszaverik a szikrázó napsugarakat. A teraszokon napozóágyak, itt-ott apró medencék kékje.
A dór alapítású antik Théra impozáns maradványait Firától délkeletre egy hegygerincen tárták fel a 19. század végén. A partról félórás séta után egy körülbelül 400 méter magas sziklateraszon bukkanunk rá az i. e. 3–2. századi maradványokra. A bizánci kápolnától induló egykori fõutcán ma is végigsétálhatunk. Jól azonosítható a tágas agóra, közelében a Dionüszosz-szentély, és tõlük távolabb a jóval korábban épült Apollón Karneiosz-szentély.

Thérától délre, a part menti Akrotiri falucska közelében a negyven évvel ezelõtt megkezdett ásatások eredményeként egy minószi város maradványai bontakoznak ki. Utcák, emeletes házak, sok-sok használati tárgy, vázák és ékszerek.

A sziget keleti részén fekvõ Kamari strandján az itteni jellegzetes, fekete homokot különleges, színes kavicsok pöttyözik. A nappali forgatag estére sem enyhül, megszámlálhatatlan, hajnalig nyitva tartó taverna, bár és szórakozóhely csalogatja a fáradhatatlanokat.

A naplementét viszont a túloldalról, Oiából (Ijából) érdemes megnézni. A település szûk kis utcácskáit már kora délután ellepik a "naplementevadászok". Oia igazi kis mesevilág. Hófehér házai élénk kontrasztot alkotnak a föléjük magasodó sötét bazaltsziklákkal. Valamennyi háznak kék a kapuja, s az elõkertek roskadoznak a pompásnál pompásabb virágoktól. Az utcácskák dimbes-dombos köveinek fúgáit hófehérre meszelik, így véget nem érõ puzzle-kon lépkedünk.

A horizonton lebukó nap utolsó sugarai aranyfényekkel vonják be a körülöttünk állók átszellemült tekintetét. Ha csupán percekre is, de megszépülünk mindannyian.
Tetszett a cikk? Küldd el az ismerõsõdnek!
Hozzászólok!