#6
Hair – Séróból nyomják a drámát
Szeretkezz, ne háborúzz – summázhatnánk, persze, akinek behívója van, de nõje nincs, annak ez valószínûleg eszébe sem jut. Természetesen ennél jóval többrõl szól a Hair, melyet éppen negyven éve mutattak be a Broadway színpadán. Bõ egy évtizednek kellett eltelnie, hogy a háborúellenes produkció a világot jelentõ deszkák után gyöngyvászonra kerülhetett Jan Tomas Forman és John Smeallie Young, azaz Milos Forman és John Savage közremûködésével.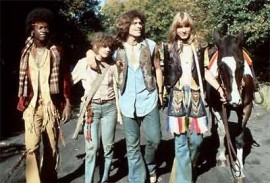 Csak egyszer vagyunk fiatalok, utána más mentséget kell találnunk – tartja a mondás. Ám mindezzel mit sem törõdik a kötelességtudó Claude Hooper Bukowski, kezében a behívójával. Tudja mi vár rá: a hadsereg. Ám a világról alkotott képét meglepõen hamar formálja át néhány útjába akadó hippi. Elõttük az élet, bár a jövõjükrõl mindannyian másképp gondolkodnak. Igaz, egyik oldalnak sincs nehéz dolga a saját világában, ám pillanatnak tûnõ találkozásukból nem várt közös idõ, sõt új közösség születik. Egyszerû? Pedig nem az. Ráadásul az érem harmadik oldalaként egy dúsgazdag család leánygyermeke bonyolítja a helyzetet, aki szó szerint belovagolva a képbe, annak rendje és módja megszédíti az egyenruha-viselésre készülõ ifjút. A rebellis kompánia vezetõje rövidre zárja a gátlásokkal teli katonajelölt Bukowski dilemmáját: elmennek a lány zártkörû partijára, a fiú váltson pár szót álmai nõjével, hadd vésse emlékezetébe annak minden apró vonását, hogy felidézhesse majd, amikor a földi pokolban masírozik.
Telitalálatos dalok, hitelesen játszó színészek, no meg egy sor emésztenivaló. Strucc és politika, faj és gyûlölet, rend és szer… Egy sor tabu, melyek élét tompítják ugyan a slágereken alapuló zenei betétek és a fesztelen történetvezetés, ám ott vannak, s a film utolsó képkockáit követõen is elkísérik a nézõt.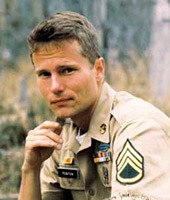 A Száll a kakukk fészkére, az Amadeus és a Ragtime direktora, Milos Forman ezúttal sem hibázott. Bár Oscarra fel sem terjesztették az évtizedek óta generációk meghatározó zenéjû és üzenetû szélesvásznúját, az idõ õt és dalra fakadó színészeit igazolta. Utóbbiak azóta sem tudtak igazán feljebb lépni (Treat Williams ugyan játszhatott a Volt egyszer egy Amerika és Az ördög maga címû mozikban, Beverly D'Angelo a Vakáció-sorozatban domborított, John Savage kapcsán viszont még ennyi sem jut az ember eszébe a Hairt követõ idõszakból), miközben a szerepeikre olyan, azóta is szárnyaló énekesek jelentkeztek sikertelenül, mint Madonna vagy éppen Bruce Springsteen. Ki tudja, hogy szólt volna az õ elõadásukban az I Got Life, a címadó Hair, illetve a mozit záró Flesh Failures (Let The Sunshine In)?!
Hair – 1979, 121 perc

Fõszereplõk: John Savage, Treat Williams, Beverly D'Angelo,

Zene: Galt McDermot

Szöveg: Gerome Ragni, James Rado

Rendezõ: Milos Forman
Tetszett a cikk? Küldd el az ismerõsõdnek!
Hozzászólok!
eredeti el?zetes