#34
Nagy-Korallzátony - egy mer(ül)ő csoda
Stefan, nehézsorsú ausztrál barátom – ha nem búvárkodik éppen, akkor szörfdeszkán bitangol – kábé kéthetente küld nekem egy lelkendező e-mailt: nahát, öreg, a Great Barrier Reef, azt neked is látnod kellene! Spórolj picit, és ruccanj át egy-két merülésre! Oké, már gyűjtöm hozzá a sűrített levegőt…

Földünk legnagyobb korallzátonya Ausztrália északkeleti partjainak mentén, attól 80–160 km távolságra, közel kétezer kilométeres darabon öleli körbe a zöld kontinenst. Jó része csupán apály idején emelkedik ki a tengerből.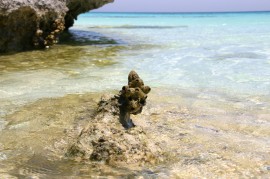 A korallzátonyok és -szigetek keletkezésének első tudományos magyarázatát Charles Darwin adta. Az óceánok sekély és melegvizű területein a fenéken megtelepedett korallfajok aránylag gyorsan szaporodnak, s további állatfajok (rákok, mészalgák, kagylók, tüskésbőrűek) keverednek a kialakuló korallpadok közé, míg a fennmaradó üregeket korallhomok tölti ki. Az évmilliók során e koralltelepek elérik és meghaladják a tengerszint magasságát. A hullámok és a szél odasodorta magvakból előbb-utóbb megtelepszik rajtuk a növényzet.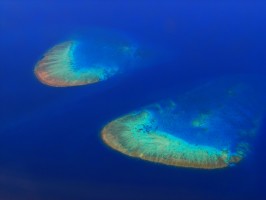 A világ természeti csodái között számon tartott Nagy-korallzátonyt közel háromezer különálló zátony és több mint 500 kisebb-nagyobb sziget alkotja. Flórája és faunája rendkívül változatos, eddig csupán korallfajokból közel félezret számoltak össze a kutatók. De megtalálhatjuk itt a mázsányira is megnövő óriáskagylót, amelynek tátott "szájába" nem ajánlatos belelépni, míg a jóval kisebb kúpcsiga kellemetlen méregfogakkal rendelkezik. A szuvenírüzletek sztárja a csodaszép porceláncsiga, az éttermek étlapjain pedig előkelő helyen szerepel a csodálatos ízű languszta. Több mint 1500, érdekesebbnél érdekesebb halfaj áll, illetve úszkál a kíváncsi búvárok rendelkezésére. Ám tegyük hozzá gyorsan: e vizek leghírhedtebb állatai a szürke- és a dajkacápák, amelyek közismerten mohó ragadozók. Ha máshonnét nem, hát a természetfilmekből sokunknak ismerősek lehetnek az ajakos halak, melyeknek testét 4–5 centiméteres tüskék borítják, ráadásul veszélyt érezvén hatalmas gömbbé fújják fel magukat. Nos, cápa legyen a talpán (uszonyán), aki ki merne kezdeni velük. Egy-egy búvárkodással töltött nap végén, vagy csupán néhány merülés után már elmondhatjuk: az emberi kéz által érintetlen, lenyűgözően változatos, fantasztikus színekben és formákban gazdag víz alatti világ életre szóló élmény. Akit, szemben úszván velük, simogattak már végig rajokban közeledő pávahalak ezrei, tudja, miről szólunk.
E fantasztikus, élőlények alkotta természeti képződményről érdekes sorokat olvashatunk a legendás Cook kapitány naplójában, aki 1769-ben hajózott el mellette. A hajónapló persze nem a vízi világ szépségét, hanem a zegzugos szirtfokok árbocosokra jelentett veszélyét rögzíti.

A Nagy-korallzátonyt 1981 óta tartják számon a világörökség részeként. Megőrzése, megóvása nem csupán a tudományos kutatás, a zoológia és az oceanográfia, hanem Ausztrália számára is fontos. Ugyanis ez a korallgát védi a kontinens partjait a Csendes-óceán pusztításától.

Élővilága felülmúlhatatlanul gazdag. Több millió hektáros területén néhány nemzeti parkot is kialakítottak, legutóbb a Zöld-szigetet nyilvánították védetté, amely mindössze három méterrel emelkedik az óceán szintje fölé. Felszínét kókuszpálmák borítják, partjait vakítóan fehér korallhomok fedi. A víz alatti világ lenyűgözően színes és változatos.

Talán sokan emlékeznek a közelmúlt médiahírére: a krokodilvadászként elhíresült, egyébként zoológus végzettségű Steve Irwin tavaly ősszel filmet forgatott az egyik korallszigeten, amikor egy tüskés rája halálos mérge végzett vele.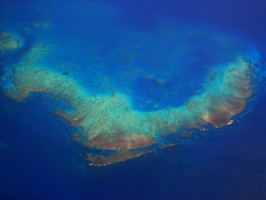 Az utóbbi esztendőkben több helyről is aggasztó hírek érkeztek a Nagy-korallzátonnyal kapcsolatban. A borúlátóbbak szerint a Nagy-korallzátony napjai meg vannak számlálva, s jelentős része a következő 40–50 esztendő során megsemmisül. A Queenslandi Egyetem Tengertudományi Központjának minapi tanulmánya szerint igen kicsi a valószínűsége annak, hogy a korallok képesek lesznek alkalmazkodni a világtengerek hőmérsékletváltozásaihoz. Márpedig a legoptimistább előrejelzések is a következő ötven év vonatkozásában két Celsius fokos felmelegedést tételeznek. A korallok pusztulásához azonban nem csupán a manapság naponta emlegetett globális felmelegedés járul hozzá. A megengedettnél nagyobb mértékű halászat, s a part menti vizek szennyezettsége ugyancsak veszélyeztetik e páratlan természeti képződményt. Az ausztrál parlamentben már számolgatják: a halállomány pusztulása és a turizmus csökkenése évente dollármilliókkal rövidíti meg az állami büdzsét. (Nem hivatalos becslések szerint a Nagy-korallzátony jelenleg évi egymilliárd dolláros üzletet jelent Ausztráliának.)
A mértékadó tudósok igyekeznek megnyugtatni a közvéleményt: a zátonyok nem fognak eltűnni, ám azokat a jelenleginél kevésbé látványos élőlények népesítik be majd a jövőben – tengeri algák és moszatok.

A közelmúltban a WWF (Worldwide Fund of Nature) készített egy összefoglaló jelentést az ENSZ Éghajlatváltozási Kormányközi Testületének (IPCC), amelyben földünk tíz olyan természeti csodáját sorolja fel, amelyek eltűnhetnek a klímaváltozás hatására. E listán a mexikói Chihuahua-sivatag, a Chilében található valdiviai őserdők s a Himalája olvadó gleccserei mellett ott szerepel az ausztrál partok közelében lévő Nagy-korallzátony is.

Mit üzenjek hát Stefannak? Induljunk útnak megcsodálni, amíg nem késő? Nos, ha akad némi kapcsolatunk valamelyik fapadosnál, akkor egy hétnapos búvárkodás a zátonyokon kihozható potom hétszázezer forintból. Persze ahhoz itthonról kell vinnünk a levegőt…
Tetszett a cikk? Küldd el az ismerősődnek!
Hozzászólok!